The story behind the photograph: Burning Love
Posted on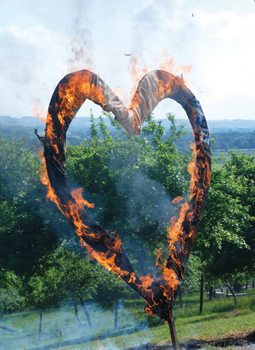 A couple of years ago, a story behind the photograph grabbed my attention when a press photographer commented on a sports photographer that he had worked with who specialised in 'one shot'. He took one picture at the winning line of the Grand National at Aintree and managed the ace shot of the event. While the photograph I am putting up today was not, by any stretch of the imagination, taken as the result of 'one shot', it does have an interesting back story. It also has relevance to Valentine's Day coming up.

The photograph was taken of a burning heart designed and set alight for the wedding of our nephew, Joseph Peace. Joseph has a rather different 'day-job' to most, as he performs fire-based entertainments for audiences across the country. The wedding itself was very much a family event and was enjoyed by all. Held on a hill-slope looking across the Somerset levels, the sun shone down and children ran around playing in amongst the marquee tables and table cloths.

When the time came to light the heart, the experience of Joseph at events came to the fore and we watched as the iron shape covered in petrol-soaked wraps was lifted gradually and clicked safely into place. Once lit at the base, the flames gradually licked their way around to the top, fully engulfing the heart which for a while was in an exhilarating and flamboyant representation of love. The wedding guests swarmed up and down the slope, choosing their preferred angle to photograph it. It made a memorable and heartening contribution to the whole day. We must have taken about fifty photographs of the different stages of the burn.

Last year we were able to see Joseph in full action locally, when he came to entertain the visitors to the Crowborough Summer Fair. Again, we were able to capture his ability to engage his audience and do things with fire that most of us would get a tad pale to contemplate.